By China Bar LCD display supplier |
03
November 2023 |
0
Comments
Bar LCD Screens: A Comprehensive Guide
I. Introduction to Bar LCD Screens
A. Understanding Bar LCD Screens
B. Evolution and History
C. Advantages of Bar LCD Screens
II. Applications and Use Cases
A. Retail and Advertising
B. Transportation and Public Information
C. Industrial and Manufacturing
III. Features to Consider
A. Screen Size and Resolution
B. Connectivity and Compatibility
C. Durability and Environmental Factors
D. Cost and Budget Considerations
IV. Conclusion
A. Summing Up the Key Takeaways
B. The Future of Bar LCD Screens
C. Your Next Step in Choosing Bar LCD Screens




I. Introduction to Bar LCD Screens


In the dynamic world of display technology,
bar LCD screens
have carved a niche for themselves. These elongated, slim screens hold immense potential, transforming the way we convey information and captivate our audience. We'll embark on a journey to unravel the world of bar LCD screens, understand their origins, and explore their numerous advantages.

A. Understanding Bar LCD Screens

Bar LCD screens, also known as "stretched" or "ultra-wide" displays, are a unique breed of LCD panels. They come in various sizes and configurations, but their defining feature is their elongated, narrow shape. These screens have a wide range of applications due to their distinctive form factor and striking visual appeal.

B. Evolution and History

To appreciate the capabilities of bar LCD screens, it's essential to trace their evolution. These screens have come a long way from their inception, primarily in the late 2000s. The first bar LCD screens were basic, with limited functionalities. Today, they are a testament to cutting-edge display technology.

C. Advantages of Bar LCD Screens
Bar LCD screens offer a myriad of advantages. They are attention-grabbing, making them perfect for digital signage and advertising. Their unique shape sets them apart, ensuring that your content stands out. Additionally, they are highly customizable, allowing you to tailor your displays to specific needs.

II. Applications and Use Cases

Bar LCD screens are versatile, finding applications in various industries and scenarios. Let's delve into some of the key use cases where these screens shine.

A. Retail and Advertising

In the competitive world of retail, grabbing the attention of customers is paramount. Bar LCD screens are becoming a go-to choice for in-store advertising. Their unique shape and vibrant displays draw customers' attention, enhancing the shopping experience.

B. Transportation and Public Information

Bar LCD screens are ideal for conveying critical information in public spaces. They are commonly used in transportation hubs like airports and train stations to display timetables, directions, and advertisements. Their readability from a distance makes them a preferred choice in such settings.

C. Industrial and Manufacturing
In industrial settings, bar LCD screens are invaluable for displaying real-time data, production statistics, and safety information. Their slim profile allows them to fit into tight spaces, making them practical for monitoring and control applications.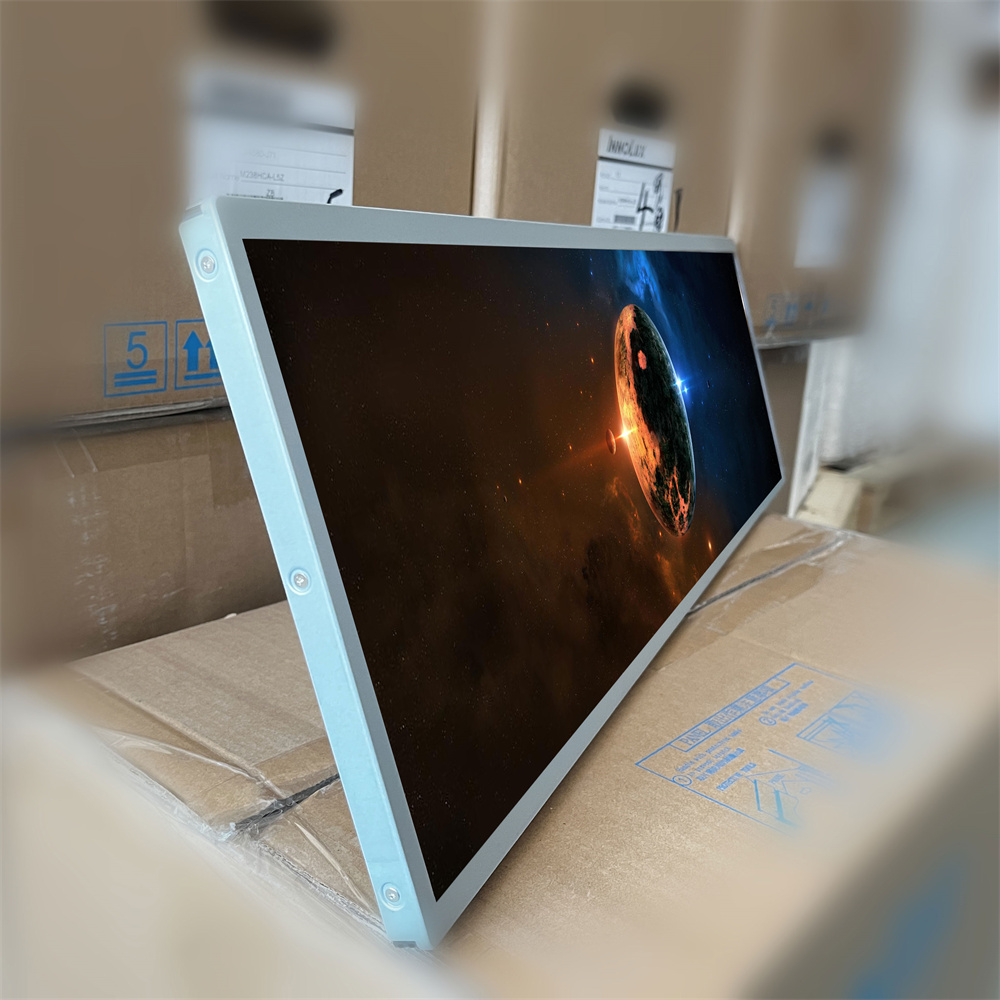 III. Features to Consider

Choosing the right bar LCD screen involves evaluating various features to meet your specific needs. Here are some critical factors to consider:

A. Screen Size and Resolution

The screen size and resolution should match your intended use. Larger screens with high resolutions are excellent for advertising, while smaller screens may suffice for informational displays.

B. Connectivity and Compatibility

Ensure that the screen is compatible with your devices and offers the necessary connectivity options. HDMI, USB, and wireless connectivity can be essential, depending on your requirements.

C. Durability and Environmental Factors

Consider the environment in which the screen will be placed. Some Bar LCD screens are designed to withstand harsh conditions, making them suitable for outdoor use. It's crucial to choose a screen that can handle the environmental challenges it will face.

D. Cost and Budget Considerations
Bar LCD screens come in various price ranges. Consider your budget and select a screen that strikes a balance between features and cost. Keep in mind that investing in quality can lead to better long-term performance.


IV. Conclusion

To wrap up, bar LCD screens have evolved into powerful tools for conveying information and capturing attention. Whether you are in the retail, transportation, or industrial sectors, these screens offer unique opportunities to engage your audience effectively. As the world of technology continues to advance, the future of bar LCD screens promises even more innovation and versatility. Your next step is to explore the options available and choose the bar LCD screen that best suits your needs.

Intrigued by the potential of bar LCD screens? Dive into the world of stretched displays and discover how they can transform your visual communication. Explore the countless possibilities and make a lasting impression with bar LCD screens.

FAQs

1. Are bar LCD screens suitable for outdoor use?
Bar LCD screens designed for outdoor use can withstand various environmental challenges, making them suitable for outdoor applications.

2. What is the typical aspect ratio of bar LCD screens?
Bar LCD screens often feature a unique aspect ratio with an elongated and narrow shape, making them stand out in terms of display aesthetics.

3. Can I use bar LCD screens for gaming and entertainment purposes?
While bar LCD screens are primarily used for commercial and informational purposes, they can also be used for gaming and entertainment, provided they meet the necessary specifications.

4. What's the lifespan of bar LCD screens?
The lifespan of a bar LCD screen varies depending on usage and quality. High-quality screens can last for several years in continuous operation.

5. How do I know which size of bar LCD screen is right for my application?
Choosing the right size of a bar LCD screen depends on your specific application and the viewing distance. Consider your intended use and audience to determine the ideal screen size.
Leave a Reply
Your email address will not be published.Required fields are marked. *